Solutions for All Hybrid Cloud
Data Movement Needs
Hybrid-cloud data mobility
Powerful & Efficient Data Movement Solutions
They enable all possible paths for moving data among file storage, private cloud, and public cloud – across any distance.
Any running Zettar zx can send and receive, even concurrently. It transparently moves data between file storage and object storage. Both can be on-prem or part of a public cloud service, or a hybrid combination, flexibly and simply. Zettar zx is all-in-one with consistent usage for all scenarios. Data movements can be managed via a built-in Web UI or automated via Zettar zx's APIs.
zx: All Data Paths Enabled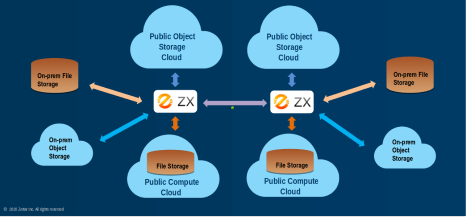 Data Mobility & Performance
A large enterprise hybrid cloud always has an ever present need: moving data between a high-performance file storage and object storage on prem, across facilities, to and from compute cloud, and to and from file and object storage in the cloud. Zettar zx migrates data at high performance for all such scenarios.
Hybrid Storage Cloud in Modern Large Enterprises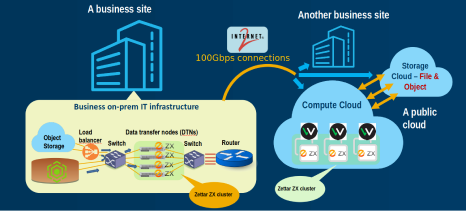 Move Your Data Anywhere Made Simple, and Fast!
Let your data move freely in the infrastructure used by your business, on prem, at the edge, in the cloud.  File and/or object. With a few clicks using the built-in Web UI or automated with zx's RESTful APIs, your data moves to anywhere you want it, fast and safely.
API-Enabled automation made simple = Business Acceleration​
Integrate Zettar zx into your data services is easy with its simple RESTful APIs and SDK.
Create what you want, when you want it. A short script can realize tremendous efficiency boost
Proven Petascale Performance
94% Bandwidth Utilization
Reduce Complexity by 80%+
Integrate Zettar zx into your data services is easy with its simple RESTful APIs and SDK.
Create what you want, when you want it. A short script can realize tremendous efficiency boost
Build-in Workflow High-availability, Load-balancing, and Scheduling